Commercial
Service for any business
A-1 is here to help you! From a simple fix of an existing unit to the servicing of a whole system.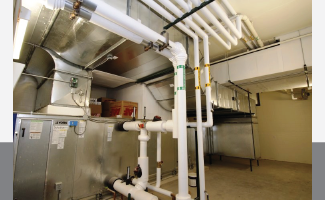 ---

---

---

---

---
When it comes to your company we do it all!
New Construction
Design-Build
Retrofit and Replacement
Service Contracts
Energy Service
At your Service for over 65 Years!
A-1 Refrigeration has been a family owned business since 1949. In that time we've earned a sterling reputation as the region's premiere provider of commercial, industrial and residential plumbing & HVAC related services.
"At your service" is more than just a phrase at A-1 because we believe that service is our business. As such, you can expect our service and construction teams to be professional and courteous, to always make sure your questions are answered, and to do the highest quality work.
---
Why Us?
Our skilled service technicians provide you with the benefit of their extensive training and experience. This enables A-1 to get your systems back up and running faster—and identify and fix small problems before they become large. In many cases, we can help your company reduce operating costs by improving the efficiency of your systems. Whether you need maintenance, 24/7 emergency service, new construction installation or renovation of an existing system, A-1 provides services for a variety of needs, including:
Air Conditioning
Refrigeration
Ventilation
ASME CSD-1 Boiler Testing
Design-Build Contracting
Hydronic and Steam Boilers
Preventative Maintenance Programs
Indoor Air Quality (IAQ)
24/7 Emergency Service
Heating
Plumbing and Piping
Sheet Metal Fabrication
Liquid Chillers
Cooling Towers
Computer Rooms & Data Centers
Air Dryers
Test Chambers
100% Satisfaction Guaranteed
---
Preventative Maintenance
Here is how you benefit:
Programs tailored to fit your specific needs
Designed to protect your HVAC & Refrigeration system investment
Minimizes costly equipment down-time
Helps ensure your customer and employee comfort
You enjoy special Preferred-Customer rates and Priority Response
Recommendations for improved energy cost control & monitoring
We will develop a service program to fit your specific needs. Whether it is for routine preventative maintenance, HVAC-R repairs or emergency service, companies have trusted A-1 Refrigeration since 1949. You can too.
A-1 Refrigeration provides routine maintenance and 24-hour emergency in all areas:
Heating
Ventilation
Refrigeration
Air Conditioning
Chillers
Temperature Controls
PBX Rooms
Control Rooms
Boilers
Air Dryers
Energy-Management Control Systems
Plumbing
Process Piping
Environmental chambers